North American Sensors Corp.
Bilge/Sump Level Switches
| | | | |
| --- | --- | --- | --- |
| | | | |
| BLG100 | BLG150 | BLG225 | BLG250 |
NASC's ABS Type approved bilge switch is designed to be installed in ships bilges, tanks and industrial sumps, where it would be bolted to an adjoining structure. Custom configurations are available upon request. The (BLG250/25SSS switch is the only ABS type approved bilge level switch manufactured in the US.)
Bottle Switches (External Mount Level Switches)
| | | | | |
| --- | --- | --- | --- | --- |
| | | | | |
| BTL100 | BTL150 | BTL400 | BTL450 | BTL500 |
NASC's line of brass & stainless steel bottle switches are designed to be installed externally to ship tanks and industrial tanks. It may also be bolted to an adjoining structure. Custom configurations are available upon request.
Side Mount Level Switches
NASC's SLS90 is designed to interface between two different liquids (i.e., oil & water). The 0.95 specific gravity float enables this unique design to sense when heavier liquids collect in the bottom of storage tanks. Custom configurations are available, consult the factory for more information.
NASC's SLS300 & SLS300T (Manual Lift/Test Mechanism) are side mount level switches & actuates at the location it is mounted. Designed to be used in tanks where the top of the tank is inaccessible. We offer this switch with either a 25VA or 100VA reed switch. Consult factory for custom configurations.
Mechanical-Magnetic Level Gauge

DS150
The model DS150 'dipstick' gauge is a mechanical-magnetic level gauge that is designed for high level indicating applications where a non-electrical gauge is required. This gauge works by lifting the internal stock, which has a magnet housing on the bottom, that interlocks with the magnet inside the float. As the liquid rises, the float lifts the stick in relation to the rising level inside the tank. All stainless steel construction, except stick, is 6010 aluminum and anodized. Stick is assembled in different colored (red, yellow, and green) sections. The integral rain cap on top of stick is PVC. Custom configurations are available, consult the factory for more information.
Level/Pressure Transmitters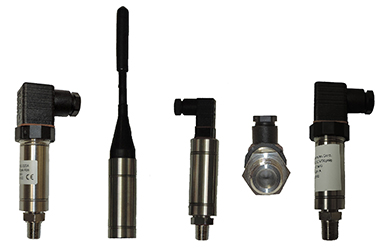 Assorted Pressure Transmitters
The PTR150 is a compact & robust transmitter, providing pressure measurement in the range of 1 to 200 bar. All ranges are available in gauge or absolute format to suit customer requirements. An all laser welded stainless steel construction ensures media isolation. The product is designed to meet the tough environmental conditions experienced by modern day applications.
The PTR575 is a 2 wire 4-20mA output transmitters offer superb chemical and corrosion resistance. Gauge or Absolute pressure is detected using a four active arm strain gauge bridge sensor, fused to a high-purity ceramic diaphragm. Ranges from 100mbar to 600 bar or scaled to application requirements.
Level/Pressure, Hydrostatic & Density Transmitters
| | |
| --- | --- |
| | |
| PTR460 | DTR290 |
NASC has drawn upon thirty years of global marine application experience, to develop a smart dual mode MODBUS and analogue pressure transmitter that offers you the highest possible standards in terms of performance, versatility, functionality and reliability. The ICT 1000 pressure transmitter's advanced capacitive measurement cell is manufactured in robust and durable ceramic, and our careful design of the sensor means the diaphragm is fully supported and protected against overload and shock conditions. The ICT 1000 transmitter body is manufactured from 316SS and employs a carefully engineered Kalrez seal assembly to provide a fully submersible (IP68) construction capable of withstanding the toughest operating conditions for many years. The ICT has a powerful on-board micro-controller to precisely monitor the pressure related output of the capacitive cell. Ambient temperature is also monitored to provide a fully compensated measurement output. The transmitter is certified according to ATEX regulations for installation in a hazardous area and approved by many major classifications societies as suitable for use in marine applications.
With thousands of marine liquid level transmitters installed on all classes of ships, from military vessels to tankers, the design of the Series 460 marine level transmitter draws on NASC's comprehensive marine application experience. Fully compliant with the latest IEC and marine industry standards, the Series 460 rugged construction provides reliable and accurate monitoring of liquids in the harsh environments of shipboard tanks. The Measuring principle of pressure in the Series 460 hydrostatic level transmitter is a diaphragm and L.V.D.T. sensor with power and signal linearization via a remote mounted transmitter. This combines excellent responsiveness and long term stability. The liquid level transmitter has the sensitivity needed to accurately measure shallow tanks but will resist a five times nominal range overload without damage. The all welded level sensor is manufactured from high grade alloys specifically selected for their stability and corrosion resistance. A wide choice of fittings and the remotely mounted amplifier maximizes installation flexibility and serviceability. The Series 460 is maintenance free and contains no active electronic components. A factory sealed cable is supplied with a heavy-duty outer sheath of cross linked polymers, suitable for continuous immersion in seawater, fuels and hydrocarbons. An optional performance cable permits use of the sensor with extreme temperatures limits of -50°C to -1 48°C.
NASC has designed and developed the Series 290 as a density transmitter specifically for use in the onshore and offshore oil an d gas market. It is the first fluid density transmitter that is fully submersible for use on drilling mud, slurry, cement and completion fluids. This density transmitter is rugged yet accurate, providing reliable measurement in the mixing or holding tanks and return sumps. The Series 290 transmitter measures density as a function of differential pressure. Each unit has two pressure sensitive diaphragms mechanically separated by a fixed distance on a mounting pole. The distance between the transmitters two diaphragms provide a value of the liquids specific gravity. The diaphragms are protected by enclosure cages to prevent damage from the mechanical impact or debris. These are easily removable for cleaning. The density measurement is made online in real time and is fully compensated for changes in fluid temperature.
Resistance Temperature Detectors
Assorted RTDs
These RTDs are specifically designed for use in two different process temperature ranges and they provide accurate and repeatable temperature measurement through a range of -328° to 1112°F (-200° to 600°C). Low range wire wound RTDs -328° to 400°F (-200° to 204°C) and low range thin film RTDs -40° to 400°F (-40° to 204°C) are constructed using silver plated copper internal leads, teflon, and other suitable wire insulations with potting compounds to resist moisture penetration. High range RTDs -328° to 1112°F (-200° to 600°C) are constructed with nickel internal leads inside swaged MgO insulated cable to allow higher temperature measurements at the RTD element and to provide higher temperature lead protection along the sheath.
Thermocouples
The millivolt potential that is created in the thermocouple conductors differs depending on the materials used. Some materials make better thermocouples than others because the millivolt potentials created by these materials are more repeatable and well established. These thermocouples have been given specific type designations such as Type E, J, K, N, T, B, R and S. The type of T/C used also depends on temperature monitored and environment.
As a general rule, industrial thermocouples can be made to withstand higher temperatures and come in a wider variety of thermocouple types. MgO thermocouples are flexible and have a wider selection of measurement junction configurations.
An MgO thermocouple consists of a thermocouple element encased in a metal sheath and hard-packed with magnesium oxide mineral insulation. Thermocouple sheaths are fully annealed and can be formed into different configurations (minimum bend radius is twice the outer diameter of the sheath). The measuring junction can also be sealed from the environment, reducing the potential for contamination issues.
Thermowells
A thermowell acts as a barrier between a process medium and the sensing element of a temperature measuring device. It protects against corrosive process media, as well as media contained under pressure or flowing at a high velocity. A thermowell also allows the sensing element to be removed from the application while maintaining a closed system.
Our thermowells are available in 316S.S. and 304S.S.. Other materials available upon request.